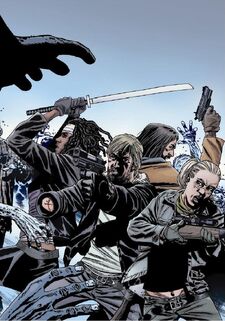 Coming fresh from Walking Dead #105, is issue #106 of the Walking Dead Comic series.
The plot? Simply REVENGE – New survivors? Negan and Carl? What can we expect in the latest issue?
Download the full .CBR, enjoy the issue, and look for our full Volume 18 to be uploaded!
In our opinion, Carl is really becoming a "boss" you can even see it in the TV series, as much as I love watching the AMC show, I simply cannot get my hands off the comic book. I am even going to buy the latest Volume when it comes out, as I already own the previous series.
The CBR's  are under 50MB in size on a fast filehost, links updated in case they go down and they are also protected.  Please make sure you have a decent  internet connection to download 50MB. Please do not repost out links anywhere else or they risk being deleted. We use private links for our comics to extend the life span.  Look for us to post a Volumes Pack of The Walking Dead comic books, this will be a rather large file but it will include all the the Volumes (minus the most recent issue)  in zip/rar format.
INFO
 Format: .CBR (How to open/use)
Issues: #106
Archive: 7-Zip (Get 7Zip)
Comic Date: January 2013
DOWNLOAD FROM: